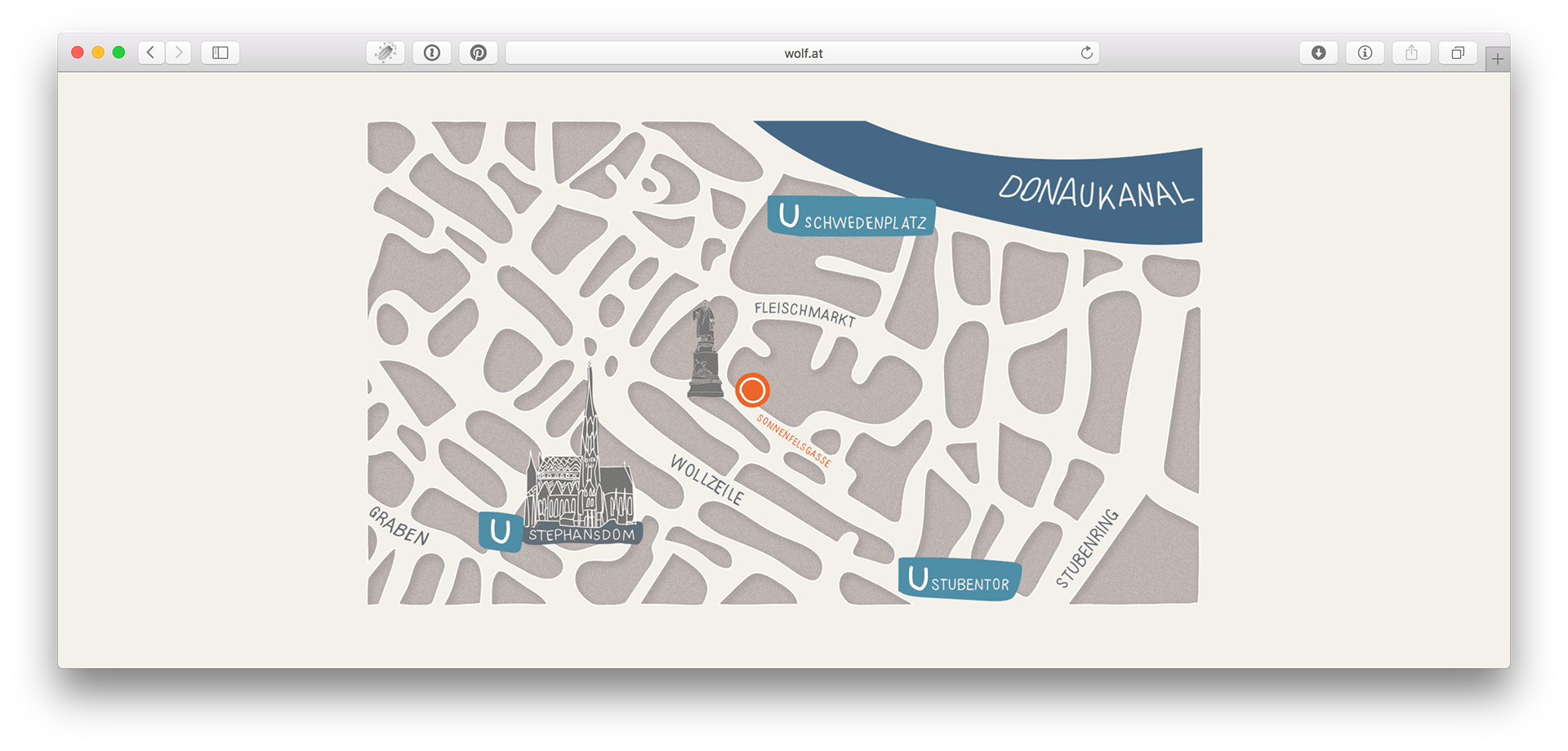 Lia Wolf's Cabinett
is more than a bookstore, it's an experience. Although it looks and feels like a bookstore, the longer you stay, the more you realise it's more than "just" a bookstore. Truly a fantastic place and anyone who visits Lia Wolf's Cabinett regular knows that there is always something interesting going on in the store.
Across the world, with Vienna no exception, the changing buying habits have written the final chapters on many bookstores. Lia Wolf is writing her own new chapter with her Cabinett, which can be found at Sonnenfelsgasse 3/2A, Vienna. It's a community space, time seams to slow down there and people can gather and feel at home. It's a place which celebrates art, graphic-design, photography and also reading.
So for Lia Wolf Cabinett's Website I'd the opportunity to create the illustrations – in particular the map.
Clarity is essential for a map to transmit information be understood perfectly. Therefor the information that have to be included and the most important points on the maps have to be analysed first. The composition is often the most challenging aspect of designing a map – cause you get easily caught between the realistic layout of the city and the dimensions of the layout in the brief. The key in making a well-designed illustrated map is also to create a visual balance and maintain readability.
The harmony of graphic elements is important and it's often essential to stick to a limited colour palette (with colours that contrast well). So, when choosing colours for the map I built the palette around the colours of Lia Wolf's Logo. For the composition I tried to play with the geography of the city. Although they are not exactly at the right places, the monuments – bigger than they actually are – make it easier to find the way.